30 juillet 2012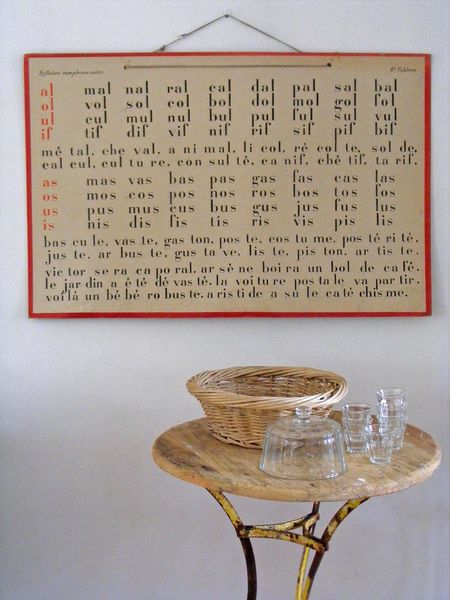 L'île de Ré et ses environs ne m'auront une fois de plus pas déçue et c'est la voiture un peu plus chargée que nous avons pris le chemin du retour. Des boutiques toujours plus jolies, des idées à tomber, de nouvelles envies comme ces petites touches de limoncello à distiller discrètement dans la maison en commençant par les pieds jaune rouillé du nouveau guéridon. Aussi retourner un peu à l'école avec cette planche de lecture bien vintage!
***
Once again Ile de Ré and its surroundings have not disappointed me and we came back home the car a little heavier. Shops are prettier than ever, I saw lots of new ideas and new trends such as subtle touches of limoncello wich I followed straight away finding a small table with rusty yellow legs. I also found this very cool school board that was used to teach children how to read!
23 juin 2012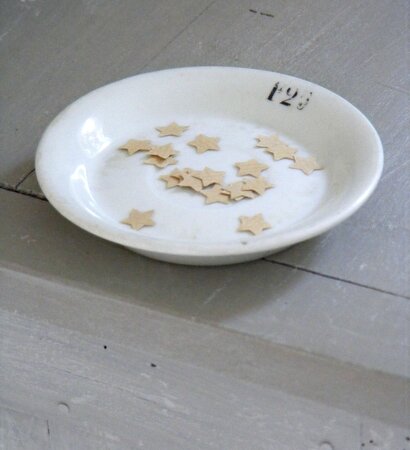 Depuis mon arrivée lundi matin les journées s'enchaînent très remplies mais j'ai déjà eu le temps d'aller visiter quelques adresses préférées pour chiner! On ne se refait pas.
Et même si des choses volumineuses à tomber ont déjà croisé mon chemin, il faut croire que cette fois-ci la sagesse a pris le dessus... m'enfin bon je ne suis là depuis qu'à peine une semaine hein...
***
Since I arrived monday morning my days have been pretty full and busy but I have already managed to stop by my favourite "brocante" places! One never changes.
Although many beautiful voluminous pieces have crossed my path so far wisdom has been leading upon my descisions... in saying that I have only been here less than a week...
31 mars 2012
D'où vient le vent? d'un livre ancien qu'on a oublié de refermer.
Qui ne vient chez nous qu'en notre absence? l'amour.
Qui rit après sa mort? la pluie dans le feuillage.
(Christian Bobin)
Sur ces petites phrases toutes simples et qui me font toujours sourire... les chines récentes tout en blanc.
Tout vient à point à qui sait attendre, le moule à gelée de l'époque victorienne j'en ai rêvé longtemps longtemps mais mon porte monnaie faisait toujours la grimace face à ceux qui croisaient mon chemin, sauf l'autre jour!
Et puis ces jolis plats blancs du début du siècle... de quoi redécorer la cuisine quoi!
***
Where is the wind coming from? an old book someone forgot to close.
Who only visits when we are away? love.
Who laughs after its dead? the rain in the foliage.
(Christian Bobin)
These little words always make me smile...
All things come to those who wait, I always dreamt of having a victorian jelly mould but somehow the few ones I came accross made may wallet cringe, except the other day!
And always these lovely old mixing bowls... I think I have enough to redeocrate the kitchen!
19 mars 2012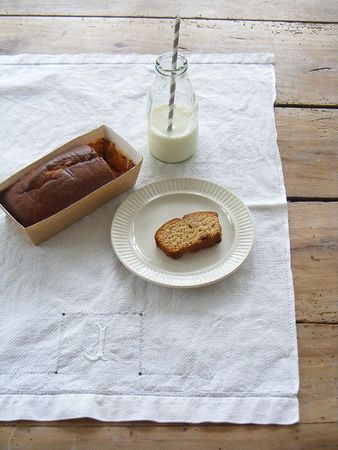 Pt'être bien qu'il faut avouer que j'ai acheté ce petit cake à la banane uniquement pour son joli emballage... Mais... qu'au final je le trouve délicieux! Parfait pour ma pause quatre heure.
***
Maybe I do have to admit that at first I only bought this banana cake for its pretty packaging... But... that I also think it is delicious indeed! Perfect snack.
M'extasier devant mes trouvailles du week end! Des cartes encore des cartes, une belle vieille assiette lourde comme il faut, une paire d'essuie-mains brodés et cette charette à petites roues pour laquelle j'ai complètement craqué... bon en même temps 5 dollars (2 euros les copines, yep) on ne pouvait pas mieux faire! Je l'ai déjà repeinte parce que bleu pétrol et vert bouteille ensemble ce n'est toujours pas mon truc...
***
So happy about all the lovely things I found this week end! Maps, always maps, a nice old heavy ironstone plate, a pair of embroidered hand cloths and this cute as trolley that made my heart melt... not to mention that for 5 dollars I would have been silly to leave it behind! I already painted it because bright blue and drak green together still doesn't do it for me...
02 novembre 2011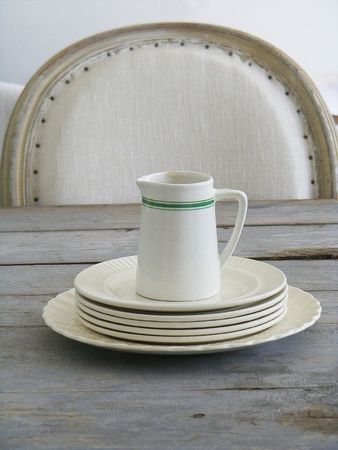 Encore des jolies choses sur mon chemin de chine aujourd'hui!

Une série d'assiettes à dessert emblématiques en Nouvelle Zélande, dont personne ne veut encore vraiment parce que ça leur rappelle trop leurs grands parents mais moi je me dis que cette collection, de plus en plus difficile à trouver, sera le Sarreguemines de NZ, vous verrez!
S'ajoute à ça une assiette et un pichet d'Angleterre, je suis prête pour une dinette là hein!
***
Cute things on my way around the op shops again today!

I bought 5 dessert plates so very typical of New Zealand, that no one really wants to buy yet because it reminds them of their grand parents, but I tell you that this collection, wich is getting harder and harder to find, will one day be the "Sarreguemines" of NZ, I told you first!
On top of that a plate and a mini pitcher both from England, yep I am ready for a nice meal I guess!
14 octobre 2011
Une journée bien remplie à ordonner la maison me permet quand même de réaliser que récemment j'ai eu la main bien chanceuse... Les pots à pommades anciens se jettent sous mes pieds, les bocaux Mason me sautent dans les mains et la boîte aux lettres m'apportent les chines dont je rêvais!
***
Spending the day tidying up the house made me realise that recently I have been pretty lucky with my finds... Old pharmacy pots throw themselves at my feet, Mason jars jump in my arms and the letter box brings me finds I was dreaming of!
Et pendant que je m'affaire avec la machine à coudre, d'autre ne changeraient leurs habitudes pour rien à monde. Je crois que Violette souhaite à cette occasion envoyer ses pensées les plus chaleureuses à Mô, la vie est dure d'un côté comme de l'autre de la terre...
***
And while I am busy with my sewing machine, some wouldn't change their habits for the world. On this occasion, I think that Violet would like to send her warmest thoughts to Mô, life is so hard on both sides of the world...
18 septembre 2011

C'est sur notre chemin ce matin vers une ville un peu plus éloignée, dans le magasin d'Antiquités local, que tout était parfaitement rangé par groupes d'objets et méthodiquement aligné en styles et en couleurs.
C'est au milieu d'un peu de tout sur la seule étagère un peu moins soignée que le pot à pommade m'a fait de l'oeil et dans une petite vitrine de choses qui brillent que ma moitié a senti mon coeur chavirer pour cette délicate broche strassée.
Le pot, je crois, sera parfait pour le gros sel et la broche assagie sur un foulard en coton m'aidera bien à accepter le froid décidément revenu par ici!
P.S : je vous prépare des explications pour la bougie dans un prochain post!
***
It is on our way to a town further away from home this morning, at the local Antique store, that everything was perfectly organised by groups and meticulously aligned by styles and colours.
It is in the middle of the only not so tidy shelf that the ointment pot caught my eye and in a little cabinet for sparkly things that my other half felt my heart beating up a storm for the delicate little brooch.
The pot, I think, will be perfect for rock salt and the brooch on a simple cotton scarf will probably help me get on with the fact that the cold is well and truly back here!
P.S : I am getting some explanations ready on how to make a candle in an upcoming post!
03 août 2011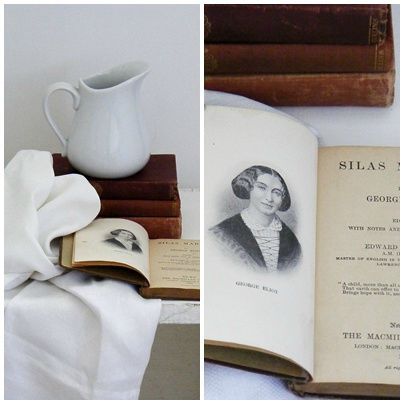 Sur le chemin du retour de la promenade quotidienne, je me suis arrêtée dans un dépôt local. J'ai mis la main sur un lot de livres charmants datant du début du XXème, un pichet et un torchon monogrammé!!! Moi qui me plains si souvent de ne plus faire les brocantes mes trouvailles récentes vont commencer à me faire mentir! Tant mieux!
***
On the way back from my daily walk, I stopped by a local charity shop. I found a few charming books from the beginning of the 20th century, an ironstone pitcher and a monogrammed towel!!! I always complain about missing flea markets and never finding old stuff here but my recent found treasures are making me lie! and I am happy about it!
26 juillet 2011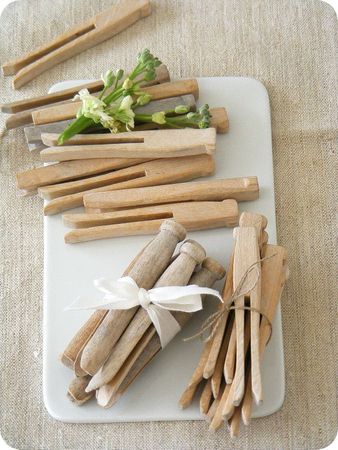 Jolies petites pinces à linge anciennes trouvées sur la route des vacances! En attendant les beaux jours et le linge qui sèche au vent dehors j'en fait des petits fagots pour la laverie!
Cute little wooden pegs, found while on holidays in Whangamata! Until the sweet days of spring and the washings drying outside in the wind I just made little bundles for the laundry room!
29 avril 2011
Mais est-ce donc possible??? Oui! J'ai chiné une mini bricole... cet ingénieux petit escabeau, usé comme il faut, qui s'ouvre et se ferme à loisir.
Bon on est d'accord que ce n'est pas le trésor du siècle mais je vous garantis qu'une trouvaille riquiqui comme celle fait du bien quand je vois sur vos blogs la saison des brocantes qui reprend son train et que je me morfonds chaque jour devant mon écran à la vue des brassées qui sont récoltées.
Pffff... J'ai envie d'y être!
Could it be possible??? YES! I found something old in NZ... this clever little stool, warn just enough, opens and closes as you please.
Ok we all agree that it is not the treasure of the century but believe you me, even a find as little as this one is enough to cheer me up when I see on the French blogs that the brocante season has yet started again and I watch everyday through my screen all the beautiful things the girls are finding.
Pffff... I want to be there!