29 juillet 2015
Des petites choses ramenées de voyage par mon cher et tendre... De l'encens, une bougie à la figue et des bracelets...
***
Sweet little things brought back from his travels by my beloved... Encens, a fig scented candle and some lovely bracelets...
10 février 2015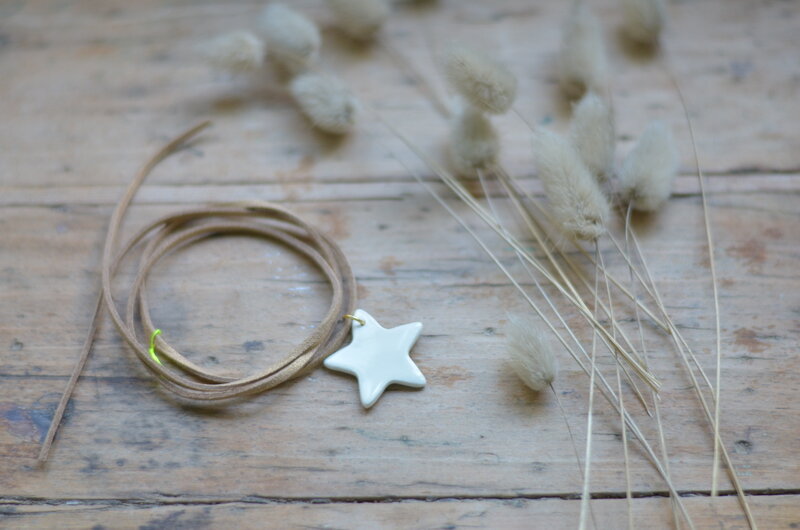 Je suis sous le charme du travail de Caroline et Delphine pour Margote Céramiste !
Leurs créations sont raffinées tout en restant simples, un mariage délicat auquel je suis toujours très sensible.
***
I love Caroline and Delphine's work as team Margote Céramiste !
Their creations are elegant yet simple, a delicate mix that gets me every time.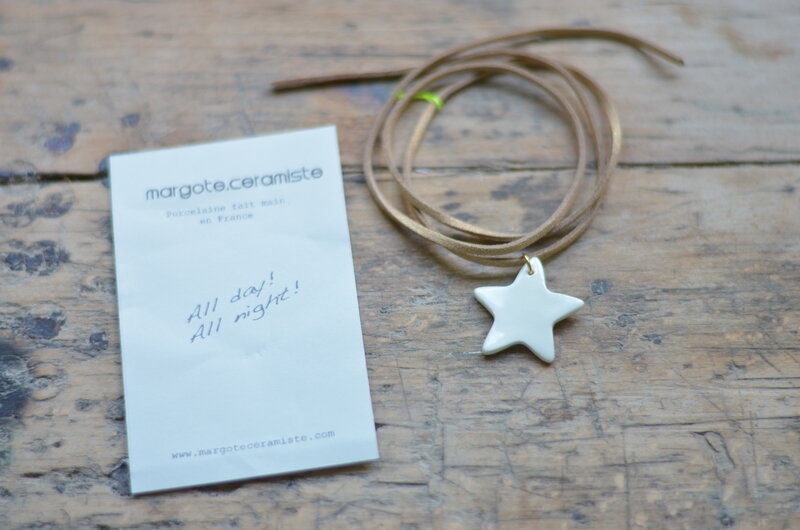 Elles m'ont généreusement envoyé un bracelet à porter "all day! all night!" avec un lien en cuir irisé et une étoile en porcelaine, je le trouve vraiment très chouette.
Merci merci!
***
They generously gifted me this "all day! all night!" bracelet made of a shimmery leather tie and a china star, I think it looks fab.
Thank you so much!
20 octobre 2013
Le temps me joue des tours, il file à vitesse folle, nos projets de fin d'année nous occupent et mon petit poulet de bébé me donne beaucoup à faire!
***
Time is playing with me, it flies by so quickly, our end of year projects are keeping us busy and my sweet little baby is one piece of work!
L'autre soir j'ai fait une tour express au jardin pour cueillir un peu de jasmin qui a poussé tout seul à la sauvage...
***
The other night I went around the garden and picked some jasmine that started growing randomly along the fence...
Le poulet a reçu des cadeaux merveilleurx de France...
Et moi je vous sers du réchauffé avec ces photos piochées sur mon instagram, si vous voulez des nouvelles plus régulières que sur le blog c'est là bas que vous me trouverez! @audreyfitzjohn sur Insta...
***
Sweet baby has received some amazing gifts from France...
And I am so lazy I am posting instagram pics on my blog... If you want more regular updates than on the blog that's where you will find me! @audreyfitzjohn on Instagram...
05 octobre 2013
* * *
J'ai ouvert avec grande excitation l'enveloppe qui contenait ma petite commande récemment passée sur Simply Factory !
La boutique ce sont les merveilles en papier pour la cuisine de notre Viccha préférée...
***
I was so excited to open my order from Simply Factory !
This sweet little shop is all about paper things for the kitchen, and our favourite Viccha is behind this new online spot...
Seul hic... les sachets de thé que je n'oserai jamais utiliser tellement ils sont jolis!
***
The only thing is that those tea bags are way too beautiful to be used!
* * *
01 juillet 2013
* * * * * * * * * * *
Bébé Charles, Bébé Charles,
Dormez-vous? Dormez-vous?
Sonnez les matines! Sonnez les matines!
Ding daing dong! Ding daing dong!

* * * * * * * * * * *


Il a sonné les matines le lundi 24 juin 2013...
* * * * * * * * * * *
He was born on monday the 24th of June 2013...
12 avril 2013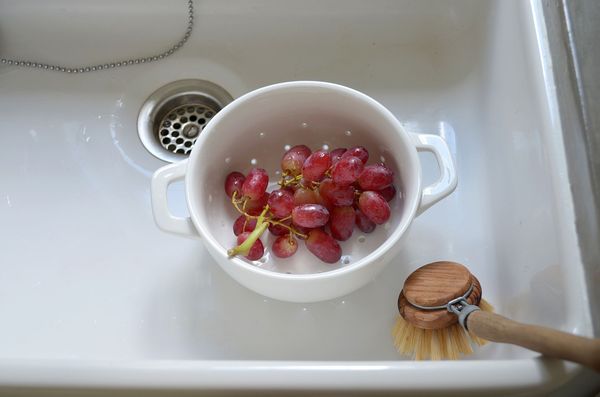 / Petit snack du jour, une grappe de raisin sur laquelle picorer /
***
/ Snack of the day, local fresh grapes /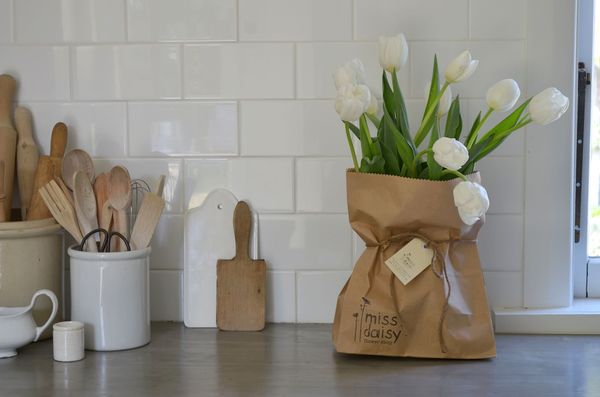 / Attention la plus touchante de la semaine, un bouquet de tulipes blanches discrètement déposé près du portillon par une amie fleuriste /
***
/ Kindest attention of the week, a bouquet of white tulips discretly left behind the gate by a florist friend/
24 décembre 2012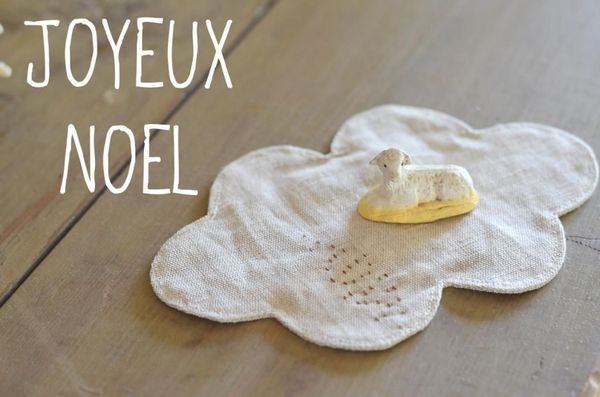 * * ** *
Le carrot cake est prêt pour le repas de ce soir, ne reste plus qu'à distribuer quelques barquettes de granola fait maison aux amis...
Je vous souhaite des vacances reposantes en compagnie de ceux qui vous sont chers.
Très beau Noël


***
The carrot cake is ready for tonight's meal, we only have a few more homemade muesli boxes to distribute to friends...
I hope you have relaxing holidays and get to enjoy the company of those you care about.
Have a beautiful Christmas
19 décembre 2012
Heureuse je suis d'avoir reçu mon paquet si poétique du Papillon!
J'osais à peine déballer chaque petite enveloppe (j'ai d'ailleurs gardé la page ancienne avec un poème titré Sagesse)
Dans mon cabas un petit accordéon et le calendrier 2013, je suis d'attaque pour la nouvelle année!
A visiter donc Le Magasin du Papillon
***
Happy I am to have received my poetic little parcel from the Papillon!
I did not want to damage any of the lovely packaging that was wrapping my order (I actually kept the vintage book page with a poem entitled Wisdom)
I bought a paper accordion and a 2013 calendar, bring on the new year I am ready!
You should definately visit Le Papillon shop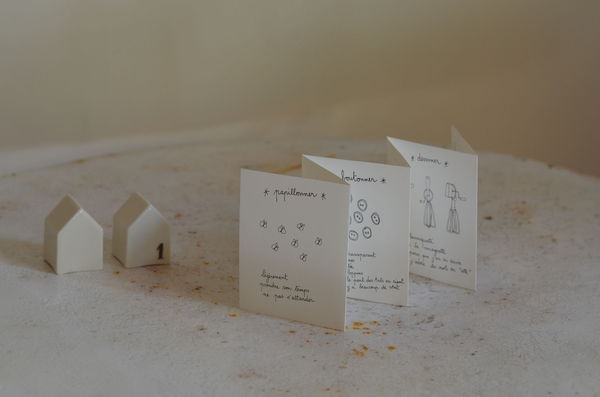 03 décembre 2012
De notre promenade ensoleillée du matin j'ai ramené des branches de sapin pour les fêtes qui approchent, mais surtout des brassées de fleurs tout juste écloses cueillies à l'ombre au bord de la rivière.
Les journées s'allongent, c'est l'été...
* * *
From our morning walk I brought back a few pine tree branches for the festive season now fast approching, but most of all armfuls of flowers picked in the shade alongside the river.
The days are getting longer, it's summer.
14 août 2012
Un de mes oncles en plus d'être un jardinier excellent est aussi quelqu'un de très généreux. C'est avec lui et ma tante que nous avons trié et rempli deux petits cageots de prunes et de mirabelles à ramener pour le goûter.
***
One of my uncles is a great gardener but most of all a very generous person. Together with my aunt we picked and filled up two boxes of fresh plums and mirabelles to bring back home for an afternoon snack.
La maison embaume à présent de l'odeur du clafoutis qui cuit encore dans le four...
***
The house is now filled with the delicious smell of the cake that is still baking in the oven...