15 janvier 2014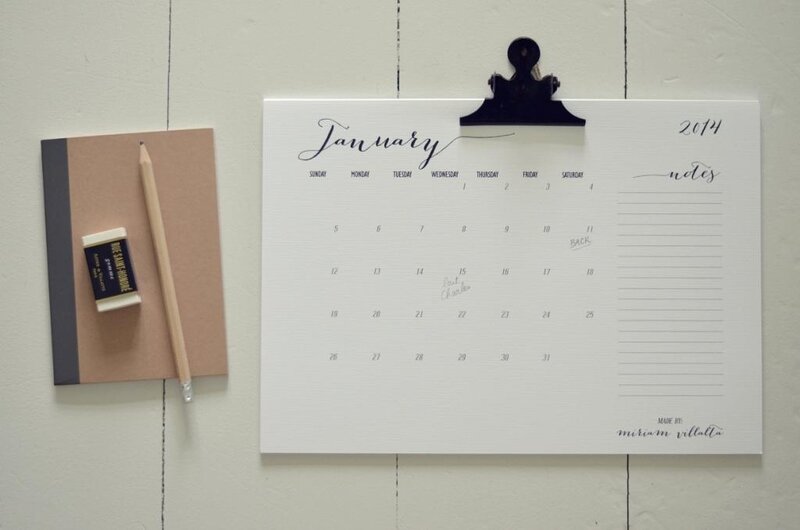 Je vous souhaite une merveilleuse année 2014!
Et pour bien la commencer quoi de mieux qu'un calendrier pour bien s'organiser? Celui là je l'ai trouvé sur Pinterest, il est gratuit et vous pouvez le télécharger ICI. Je le trouve bien pratique en calendrier familial grâce à sa colonne de notes qui permet de partager et se souvenir des infos. Je l'ai imprimé sur un papier épais pour qu'il tienne la distance...
***
I wish you all a wondetfull year 2014!
What better way to start a new year than with a calendar to keep organized? I found this calendar on Pinterest, it is free and you can download it HERE. I find it rather practical as a family calendar thanks to its notes' column, ideal to share and remember infos between family members. I made sure to print mine on a thick paper for it to last a whole year...
05 décembre 2013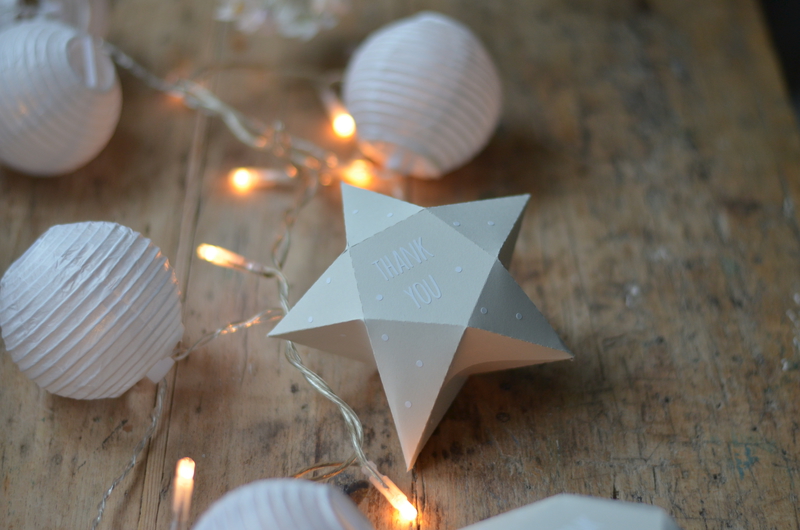 Un ingénieux pliage présenté par Dom est tombé à pic pour des petits présents que je souhaitais offrir aux deux dames qui animent avec beaucoup de passion un groupe de mamans/bébés auquel nous nous rendons depuis quelques mois.
Pour les remercier j'ai donc caché des chocolats fourrés au caramel dans les boîtes étoiles, que j'ai ensuite décorées avec des stickers.
Prochaine mission... tenir bon, ne pas manger les chocolats!
***
I was so happy to discover that Dom had shared a beautiful origami box pattern as it was just what I needed to complete a little present I was preparing for the two ladies who passionately run our mums and babies' group.
To thank them I hid some caramel filled chocolates in each star box, which I then embellished with some stikers.
Next mission... to hang on and not to eat the chocolates!
27 septembre 2013
Une pièce de calico, des tampons étoiles et l'encre qui avec... Voilà mon tissu fait maison prêt pour le projet couture que j'ai en tête...
***
A piece of calico, star stamps and stamping ink... the homemade fabric is ready for the sewing project I have in mind...
23 mai 2013
J'ai passé un après midi bien tranquille à gribouiller sur quelques pages blanches. En sont sortis des feuilles et des branches, des mots encourageants. Du papier on est passé au vynil adhésif pour décorer les vases, les prochains emballages cadeau et puis surtout les murs!
"Enjoy the little things" dans un cadre festonné un peu maladroit, j'aime bien lire ces mots qui rappellent combien chaque petit instant a sa valeur...
***
I spent a sweet little afternoon doodling on bits of paper from which came out leaves and branches, encouraging words as well. From paper I moved onto vynil to decorate glass jars, create tags for presents in the making and to put onto the walls!
"Enjoy the little things" circled by a rather simple scalopped frame, I like having these words before my eyes at home, they remind how much every little moment has value.
J'en profite pour vous remercier pour tous les adorables commentaires et messages reçus suite à mon précédent post. Je suis extrêmement touchée par votre gentillesse, j'ai tellement hâte de rencontrer ce petit être et vos mots tous très sincères me sont allés droit au coeur.
***
I would also like to take this opportunity to thank you all for the comments and messages I received following my previous blog post. I am so touched by your kindness, I cannot wait to meet this little soul and your loving words went straight to my heart.
08 avril 2013
Peu de temps pour mon petit blog en ce moment et pourtant j'en fait des choses!!!

Je vous montre un peu mes encours pour me justifier... Sur mon crochet un GRAND panier réalisé avec un fil en jersey gris chiné (trapilho) fabriqué maison, je le fais monter encore un peu et je lui ajouterai une paire de anses.
Une nouvelle pièce est terminée! Un boulot de titan accompli durant le week end de Pâques, ça vallait le coup cependant, on est bien content du résultat. D'autres images à suivre une fois la pièce décorée...
***
I don't have a lot of time for my little blog at the moment, yet I have gotten so many things done!!!

To justify this lack of posting here are some of the things I have been up to... On my crochet hooks there is a BIG basket that I have made using a homemade grey marle trapilho yarn. I just need to make it higher on the sides and add a pair of handles for it to be completed.
A new room has been renovated and finished in the house! It was a huge piece of work that got done over Easter week end. It was well worth it though, we love the result. More pics to come when the room is furnished...
En parlant de Pâques... Voilà à quoi je carbure pour accomplir tout ça : les oeufs en chocolat! Il ne m'en reste que trois, il va vite falloir que je trouve un remplaçant pour continuer sur ma lancée...
***
Speaking of Easter... This is what has kept me going all that time : chocolate eggs! I only have three left though so I need to quickly find a replacement if I want to keep getting things done at the same pace...
25 février 2013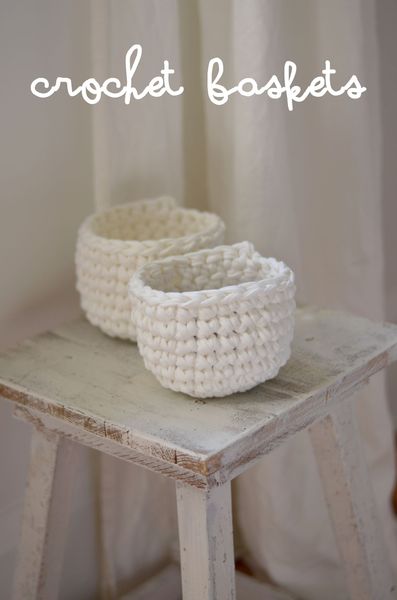 Un petit passe temps commencé il y a peu, pour lequel je m'avère plus que novice puisque je n'ai appris pour l'instant qu'à crocheter dans le rond! A plus tard donc les jolies lavettes et autres granny blankets et bonjour les créations qui montent.
***
A new passtime I started not long ago and for wich I am still very much a beginner because so far I have only learnt to crochet in the round! See you later lovely dishcloths and granny blankets and hello anything that goes up in a round.
J'ai trouvé dans ma mercerie un fil qui est en fait un ruban en jersey de coton et qui se crochette avec un crochet 10 ou plus. Après quelques recherches le nom savant de la bête c'est : trapilho.
L'avantage c'est que le fil peut être fait maison à partir de t-shirts, voici un lien vers un tutoriel vraiment très complet pour fabriquer votre propre matière première : tutoriel du trapilho par Sew&Laine.
***
At my local craft store, I found a yarn that is in fact a cotton jersey ribbon to be crocheted in 10mm or more. After a bit of research online the smart name of this yarn is : trapilho.
The great thing is that the yarn can be made at home with t-shirts, here is a link to a very complete tutorial (it is in French but there are very detailed pictures of each step) : trapilho tutorial by Sew&Laine.
J'ai crocheté une paire de mini paniers pour ranger les petites pelotes d'en cours, ils se tiennent impec' et prennent environ 45 minutes à crocheter chacun.
Je ne peux pas vous donner de tuto pour l'instant parce que j'arrive à peine à maîtriser la chose moi même... mais je prévois déjà de refaire un panier un peu plus grand avec de la corde en coton, j'essayerais de prendre des notes pour vous!
***
I made a pair of mini baskets to store the yarn I use for my on going projects, they hold really well and took me about 45 minutes each to make.
I can't give you a tutorial just yet as I am only just figuring crochet out myself... but I am planning to make a bigger basket soon with some cotton rope, I will try to write down some notes to share with you as I go!
20 novembre 2012
Je ne sais pas vous mais moi le soleil me donne toujours une pêche incroyable... Si j'aperçois les rayons de mon lit le matin la journée est pratiquement gagnée.

Aujourd'hui soleil, donc pro-duc-ti-vi-té!
***
I don't know about you but as far as I am concerned the sun always gives me an incredible burst of joy... If I can catch the sunlights from my bed in the morning the day is pretty much set to be great.
Today was sunny, wich meant pro-duc-ti-vi-ty!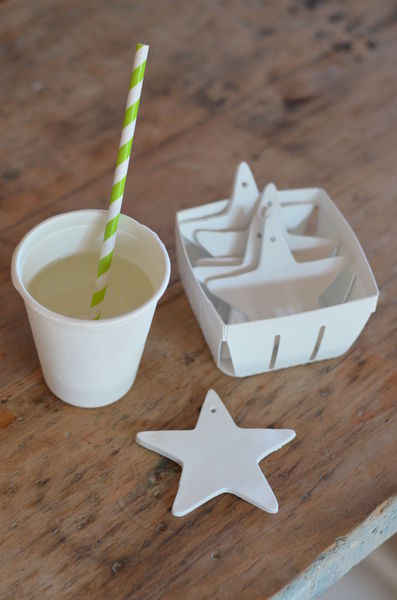 #1 - Des petites étoiles pour les fêtes qui approchent... découpées à l'emporte pièce de cuisine dans de la pâte durcissant à l'air. Le tout accompagné d'une limonade bien fraîche.
***
#1 - I cut some little stars using air drying clay and a star shaped cookie cutter. A fresh lemonade was the perfect companion of the crafty time.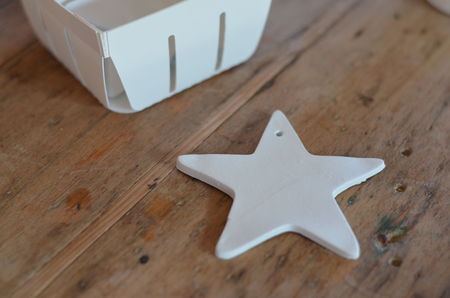 #2 - La dernière couche de peinture sur les planchers de la cuisine, on respire déjà mieux là dedans!
***
#2 - Last coat of paint on the kitchen floors, it already feels fresher in there!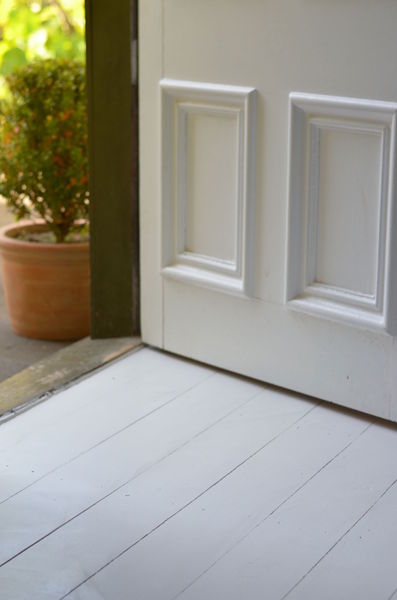 #3 - un tour dans le jardin en soirée quand il fait un peu plus frais et se régaler du spectacle : du vert à perte de vue!
***
#3 - A walk around the garden in the evening when it is a bit cooler, enjoying the show : green everywhere!
J'en redemande, monsieur météo nous annonce la même demain, j'espère...
***
I want more, the weather man says tomorrow will be the same, I am hoping...
04 octobre 2012
Une envie toute bête de rendre la corvée de courses un peu plus sympa! Un petit dessin à main levée, des lignes pas très droites et quelques découpes plus tard... tadam! Presque ça me donnerait envie d'y aller là maintenant tout de suite!
Non, je plaisante...
***
This idea came from a desire to help chores being a little more pleasant! A simple drawing, not too straight lines and a few scissor cuts later... chazam! I would almost want to go to the supermarket like right now!
No, just kidding...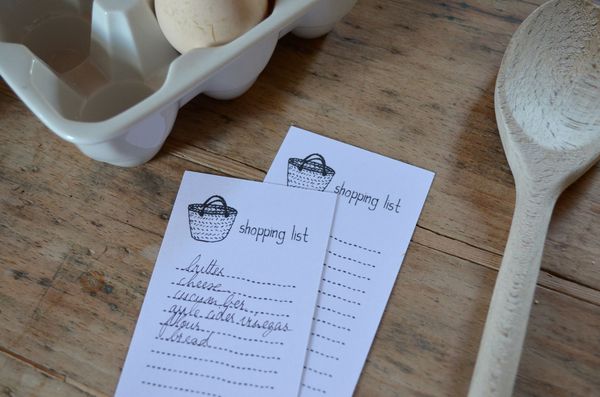 05 mars 2012
J'ai sorti un bout de ma carte ancienne... Cette fois-ci c'était pour la transformer en très petits cerfs-volants.
J'ai découpé ma forme une fois dans la carte, une fois dans du kraft, glissé un bout de ficelle à l'extrémité, collé le tout et pressé sous un livre. Même technique pour créer les petits noeuds sur la ficelle.
Concentration extrême!
***
I got my vintage map out once again... this time to create mini kites.
I cut the shape of the kite one time in map paper, one time in kraft paper, slipped a bit of rope in between the two layers, glued it together and pressed it under a book. Same technique to create the bows on the rope of the kite.
Had to be very focused!
Décidément les petits dessins m'inspirent, à la manière du Papillon mais aussi de Cricri et Mo (z'êtes aussi impatientes que moi de découvrir leur collec'?), ils se sont posés sur un lot de papier autocollant et j'ai repris le stylo magique pour dessiner sur la porcelaine... euh tout ça à main levée s'il vous plait!
***
I am really inspired by simple drawings at the moment, influenced by the Papillon but also Cricri and Mo (are you as excited as I am to discover their new collection?), I drew simple shapes onto a set of sticky tags and I used my magic pencil again to paint on china.
19 février 2012
Une technique que j'avais envie d'essayer depuis un bon moment, la peinture sur porcelaine. J'ai trouvé dans mon magasin de craft local un feutre à pointe fine spécial porcelaine (marque Pébéo), à laisser sécher 24 heures puis à passer au four à 150°C pendant 30 minutes.
***
I have been wanting to try this technique for a while now, painting on china. I found a fine tip marker to paint on china (Pebeo) at my local craft store, once painted leave your creation to dry for 24 hours and then put in the oven for 30 minutes at 150°C.
Je suis conquise! J'ai customisé les petits plats que j'utilise pour mon petit déj avec des guirlandes de fanions et c'est la fête au village dès le matin!
***
I am totally in love with this technique! I customised the dishes that I use for breakfast with a simple bunting, it's very cheerful first thing in the morning!