12 avril 2013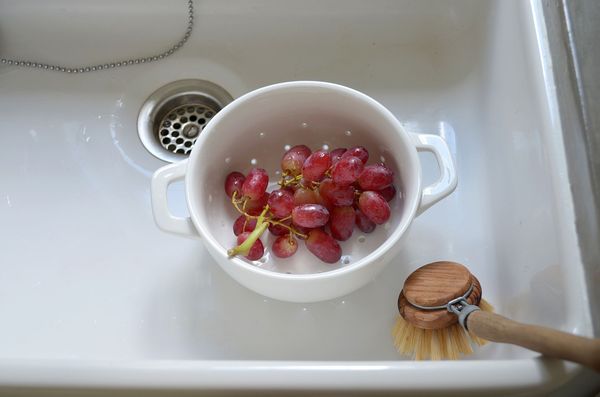 / Petit snack du jour, une grappe de raisin sur laquelle picorer /
***
/ Snack of the day, local fresh grapes /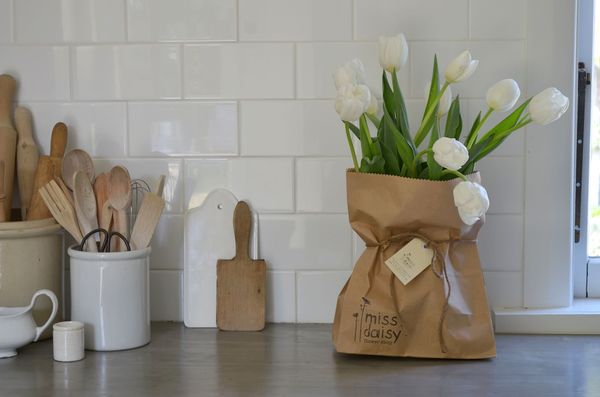 / Attention la plus touchante de la semaine, un bouquet de tulipes blanches discrètement déposé près du portillon par une amie fleuriste /
***
/ Kindest attention of the week, a bouquet of white tulips discretly left behind the gate by a florist friend/
08 avril 2013
Peu de temps pour mon petit blog en ce moment et pourtant j'en fait des choses!!!

Je vous montre un peu mes encours pour me justifier... Sur mon crochet un GRAND panier réalisé avec un fil en jersey gris chiné (trapilho) fabriqué maison, je le fais monter encore un peu et je lui ajouterai une paire de anses.
Une nouvelle pièce est terminée! Un boulot de titan accompli durant le week end de Pâques, ça vallait le coup cependant, on est bien content du résultat. D'autres images à suivre une fois la pièce décorée...
***
I don't have a lot of time for my little blog at the moment, yet I have gotten so many things done!!!

To justify this lack of posting here are some of the things I have been up to... On my crochet hooks there is a BIG basket that I have made using a homemade grey marle trapilho yarn. I just need to make it higher on the sides and add a pair of handles for it to be completed.
A new room has been renovated and finished in the house! It was a huge piece of work that got done over Easter week end. It was well worth it though, we love the result. More pics to come when the room is furnished...
En parlant de Pâques... Voilà à quoi je carbure pour accomplir tout ça : les oeufs en chocolat! Il ne m'en reste que trois, il va vite falloir que je trouve un remplaçant pour continuer sur ma lancée...
***
Speaking of Easter... This is what has kept me going all that time : chocolate eggs! I only have three left though so I need to quickly find a replacement if I want to keep getting things done at the same pace...
19 mars 2013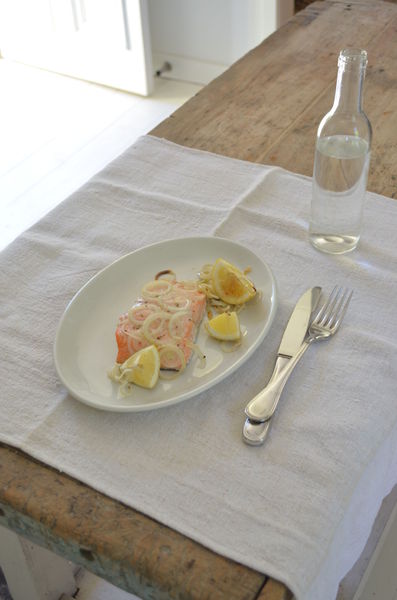 Alors qu'on espérait tous voir la pluie rester plus longtemps, la chaleur était de retour aujourd'hui et avec elle la sécheresse qui fait frémir le pays depuis plus d'un mois... Pas de déjeuner au soleil pour moi, juste une une petite cachette au frais avec vue sur le jardin m'aura suffit avec le bruit des cigales en fond sonore!


***
While we were all hoping the rain would last a little longer, today the heat was well and truly back with the drought that has been scarying the country for over a month now... No lunch in the sun outside for me today, I was carefully hiding inside with a view onto the garden and the cicadas as a background symphony!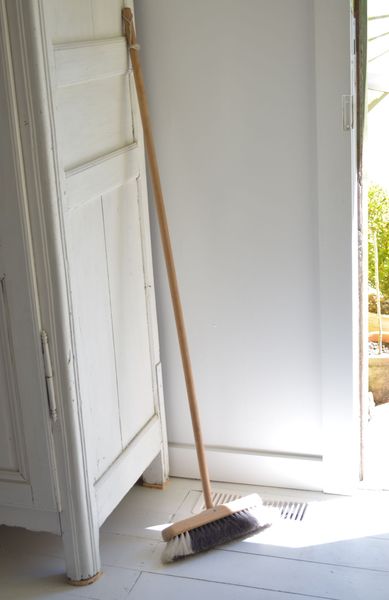 Pas le courage non plus de sortir l'aspirateur et d'imaginer la chaleur supplémentaire, un coup de balais a aussi bien fait l'affaire.
A l'heure où j'écris ces mots le soleil s'est couché et on peut enfin s'activer un peu!
***
I had no courage at all to get the vacuum cleaner out only to create more heat inside, a quick sweep was enough.
At the time I am writing these words the sun has gone down and we can finally get a little more active!
12 mars 2013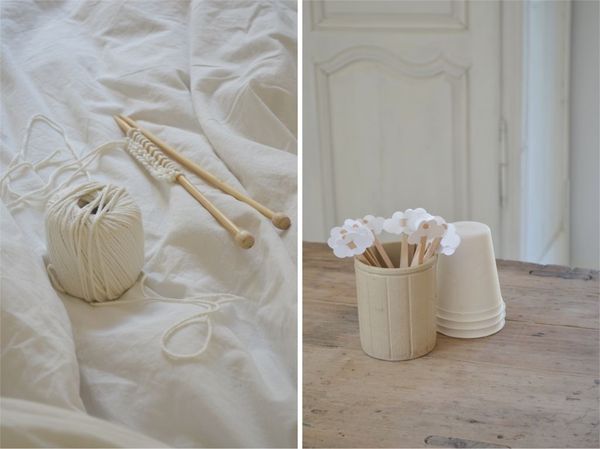 Je suis en mode "au ralenti" en ce moment... Tricot au lit quand je me réveille, petit tasse de thé qui va bien, je prends le temps d'apprécier chaque jour qui passe et ça fait un bien fou.
J'ai remisé au fond du placard les listes, les impératifs et autres courses folles... et à ma grande surprise la terre ne s'est toujours pas arrêtée de tourner!
***
I am enjoying a "slowing down" mode at the moment... I enjoy knitting in my bed when I wake up in the morning, a little cup of tea here and there, I am making time to enjoy every single day and it is so refreshing.
I have dumped never ending lists, so called imperatives and crazy comings and goings... and to my great surprise the world has not stopped going round yet!
25 février 2013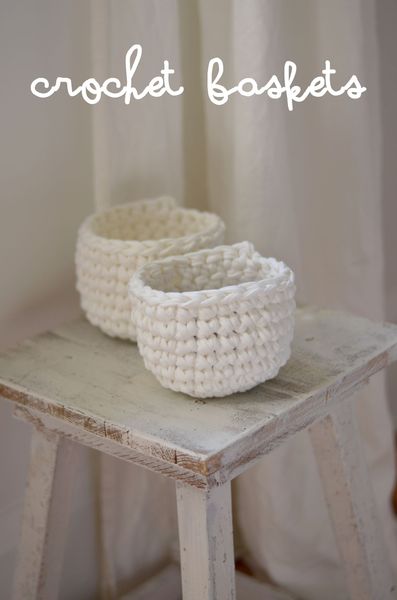 Un petit passe temps commencé il y a peu, pour lequel je m'avère plus que novice puisque je n'ai appris pour l'instant qu'à crocheter dans le rond! A plus tard donc les jolies lavettes et autres granny blankets et bonjour les créations qui montent.
***
A new passtime I started not long ago and for wich I am still very much a beginner because so far I have only learnt to crochet in the round! See you later lovely dishcloths and granny blankets and hello anything that goes up in a round.
J'ai trouvé dans ma mercerie un fil qui est en fait un ruban en jersey de coton et qui se crochette avec un crochet 10 ou plus. Après quelques recherches le nom savant de la bête c'est : trapilho.
L'avantage c'est que le fil peut être fait maison à partir de t-shirts, voici un lien vers un tutoriel vraiment très complet pour fabriquer votre propre matière première : tutoriel du trapilho par Sew&Laine.
***
At my local craft store, I found a yarn that is in fact a cotton jersey ribbon to be crocheted in 10mm or more. After a bit of research online the smart name of this yarn is : trapilho.
The great thing is that the yarn can be made at home with t-shirts, here is a link to a very complete tutorial (it is in French but there are very detailed pictures of each step) : trapilho tutorial by Sew&Laine.
J'ai crocheté une paire de mini paniers pour ranger les petites pelotes d'en cours, ils se tiennent impec' et prennent environ 45 minutes à crocheter chacun.
Je ne peux pas vous donner de tuto pour l'instant parce que j'arrive à peine à maîtriser la chose moi même... mais je prévois déjà de refaire un panier un peu plus grand avec de la corde en coton, j'essayerais de prendre des notes pour vous!
***
I made a pair of mini baskets to store the yarn I use for my on going projects, they hold really well and took me about 45 minutes each to make.
I can't give you a tutorial just yet as I am only just figuring crochet out myself... but I am planning to make a bigger basket soon with some cotton rope, I will try to write down some notes to share with you as I go!
31 janvier 2013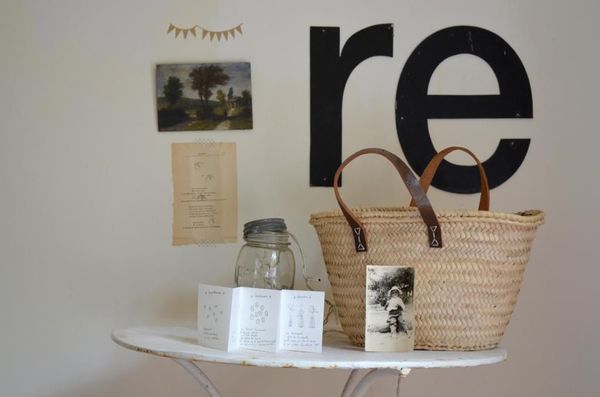 J'ai un peu ordonné le salon récemment, changé quelques petites choses de place et surtout fait le tri! Néanmoins certains meubles et objets semblent ne jamais bouger et c'est drôle de voir qu'il s'agit de tout ce qui porte à mes yeux une grande valeur sentimentale!
Par ici des lettres et une petite huile chinées avec ma Môman, dont on aperçoit la mine réjouie sur la photo, l'univers poétique du Papillon, une guirlande de papier souvenir d'un mémorable séjour lyonnais...
***
I have been tidying up the sitting room recently, I moved a few things around but mainly got rid of a lot! However some pieces of furniture and objects seem to never move and it is quite funny to see that they are mainly things I put a huge sentimental value on!
Over here you will find a pair of letters and mini oil painting I found while thrift shopping on holiday with my Mother, and it is her happy face you can actually see on the picture, the poetic creations of Le Papillon, a paper bunting from a memorable stay in the region of Lyon...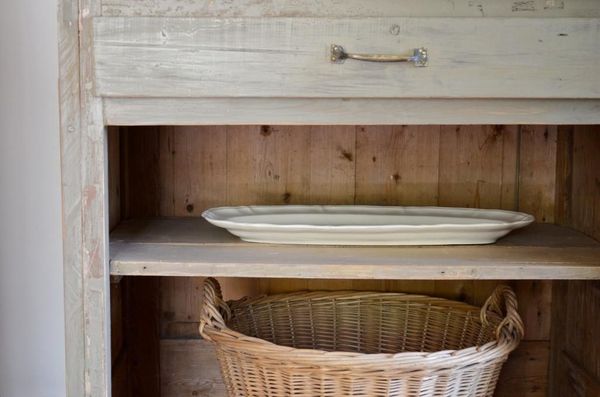 Et puis ailleurs les jolies choses chinées à deux avec Elliot aux quatre coins de l'île de France, des souvenirs de l'île de Ré et même un oreiller en plumes que je traîne depuis mes 16 ans et qui est toujours aussi confortable pour une petite pause!
J'ai un peu l'impression d'avoir retiré tout le superflu et c'est comme ça que je me sens le mieux dans ma maison.
***
And over there are a lot of things we found with Elliot around the Paris countryside, souvenirs from l'île de Ré as well and even a feather and down pillow I have been dragging around since I am 16, it is still as comfortable as ever!
I feel like I got rid of all the superficial things and this is the way I feel good at home.
21 janvier 2013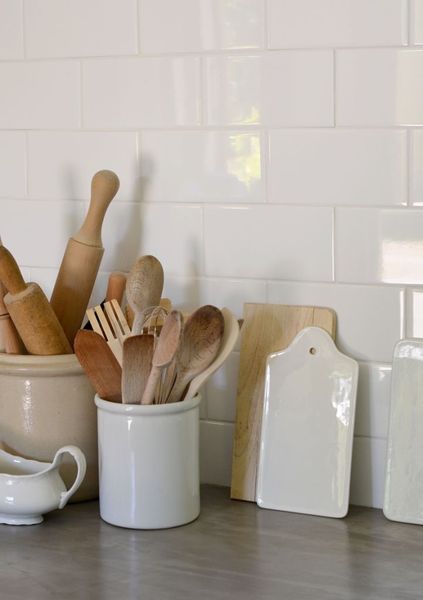 Vite, vite, quelques petits clichés et je retourne profiter du beau temps!
Instantanés de la cuisine avec sa collection d'ustensiles en bois et la salle de bain avec un bouquet du jardin.
***
Quick, quick a few snapshots and I go back to enjoying the sunny weather!
Pictures of the kitchen and its collection of wooden utensils and the bathroom with hydrangeas from our garden.
Je dois dire que la belle saison me ravie, le linge qui sèche au vent sent bon le frais, la lavande s'en donne à coeur joie et les dîners sont pris dehors tous les soirs.
***
I have to say I really love this season, the laundry drying outside smells fresh, the lavendars are blossoming by the minute and we set the table for dinner outside every night.
13 janvier 2013
Sous le soleil les journées avancent tranquillement!
Je me plais à embellir la vigne avec quelques lampions en papier, souvenirs de notre lieu de vacances. Violette pendant ce temps cherche l'ombre et ronfle à l'heure de la sieste.
***
Under a sunny sky days tend to unfold quite slowly!
I had fun hanging some paper lanterns I brought back from our holiday spot in the vine outside. Violet was more interested in looking for shade and snoring for a siesta.
Nos voisins sont en vacances et de la responsabilité de s'occuper de leurs poules arrive très vite une belle récompense! Des oeufs bien frais chaque jour... et l'envie à notre tour d'accueillir un jour quelques galinacées dans un coin du jardin.
Me cacher au frais pour nettoyer les plats en métal émaillé vintage récemment chinés...
La journée avance doucement, parfait pour profiter de chaque instant.
***
Our neighbours are away on vacation and from the responsibility of looking after their hens soon comes a great reward! Fresh eggs every day... and the desire to one day welcome a few hens in a corner of the garden.
I had to hide in the in the coolness of the house to clean a few vintage enamel dishes I have recently found in op shops.
The day is going by slowly, it is perfect to enjoy all the little moments.
05 janvier 2013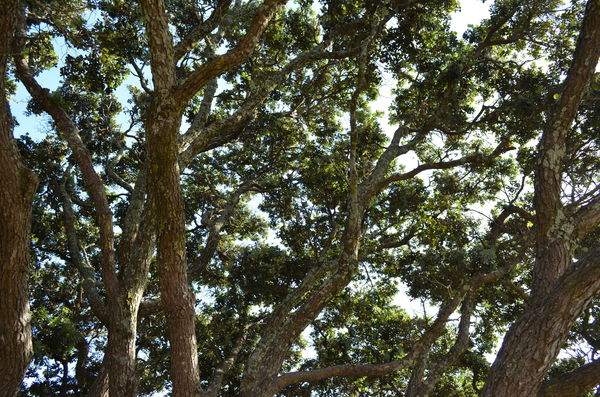 Amis, repos, plage, soleil, vagues,... quoi de plus?!
Ah si du plus, la délicieuse glace artisanale achetée religieusement tous les soirs, les ballades à couper le souffle, l'océan qui n'appartient ici qu'aux surfeurs, le jour de l'an dansé sur la plage, les néo zélandais toujours aussi gentils et qui rendent tout plus chaleureux.
Encore quelques jours à profiter de tout cela mais une petite pause pour partager quelques clichés de paradis par ici...
Friends, rest, beach, sun, waves,... what else?!
Well there is more, the artisan ice cream we religiously bought every night, breathtaking walks, the ocean that really only belongs to the surfers, new year's night spent dancing on the beach, New Zealanders always so nice and making everything that much friendlier.
We have a few more days to enjoy all of this but I thought I would stop by here and share a slice of paradise...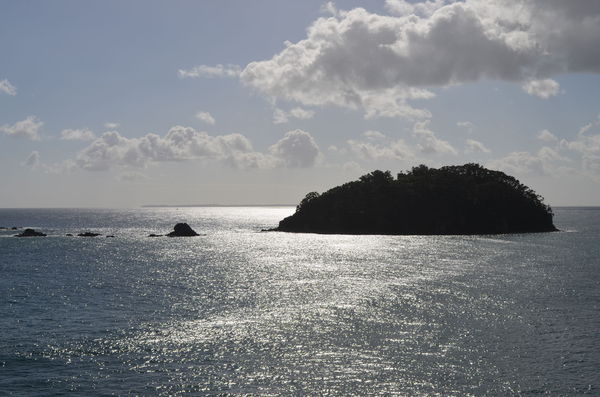 24 décembre 2012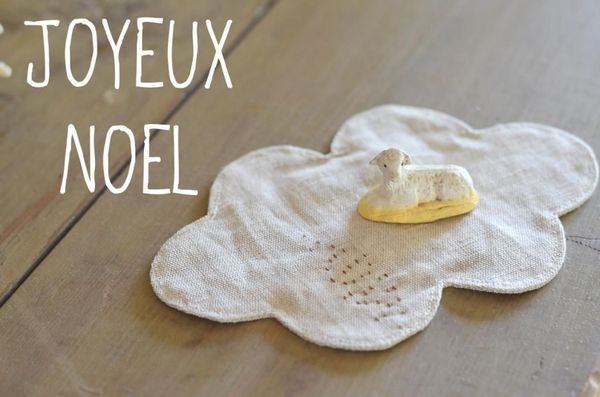 * * ** *
Le carrot cake est prêt pour le repas de ce soir, ne reste plus qu'à distribuer quelques barquettes de granola fait maison aux amis...
Je vous souhaite des vacances reposantes en compagnie de ceux qui vous sont chers.
Très beau Noël


***
The carrot cake is ready for tonight's meal, we only have a few more homemade muesli boxes to distribute to friends...
I hope you have relaxing holidays and get to enjoy the company of those you care about.
Have a beautiful Christmas