31 janvier 2014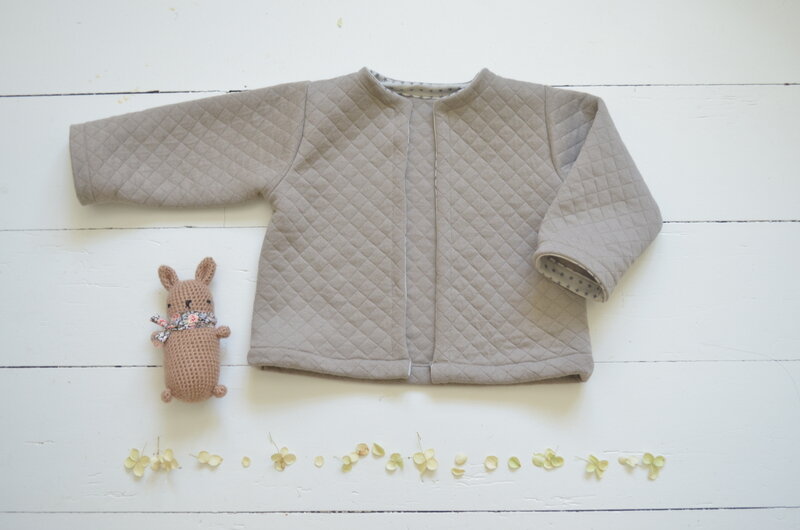 Durant nos vacances en France il y avait une boutique qui trônait sur ma liste... l'échoppe de France Duval-Stalla à Paris!
Et je n'ai pas été déçue, non seulement les tissus étaient superbes mais l'accueil vraiment très agréable et les bons conseils reçus m'ont donné ce jour là plein de nouvelles envies côté couture.
Le jersey matelassé en particulier m'avait d'emblée beaucoup plu et grâce aux tutos offerts sur le blog de France (que l'on peut aussi voir réalisés en boutique) j'ai eu envie de coudre cette petite veste pour Charles. Un bon compromis pour l'Automne je trouve!
Et franchement rien à redire, les tissus sont chouettes à travailler, le jersey matelassé est très très doux... Je me suis fait un petit stock de tissus, j'ai plein d'autres idées, je ne manquerai pas de vous montrer...
***
During our holiday in France there was one shop I really wanted to visit... France Duval-Stalla's in Paris!
I sure was not disappointed, along with the beautiful fabrics came the loveliest lady who helped me and gave me many sewing ideas.
I was really keen on trying the padded cotton knit and thanks to the great free tutorials given on France's blog (which you can also see sewn in the shop) I decided on sewing this wee vest for Charles. I thought it was a great little thing to be worn in Autumn!
Nothing but praises really, the fabrics are delightful to work with and the cotton knit is super soft... Needless to say I bought quite a bit of fabric that day, I have many more ideas, I'll share them with you once I get on with it...
Boutique en ligne / Online shop
France Duval-Stalla
15 mars 2012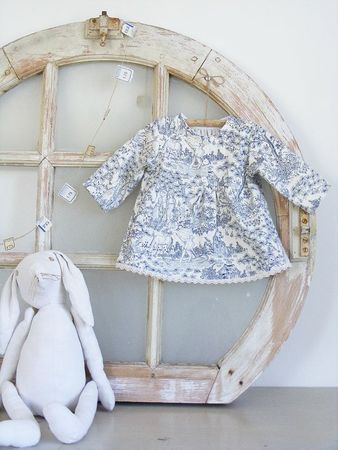 Pour la petite d'une amie... une blouse toute simple avec des plis de-ci de-là et quelques boutons sur le devant.
Bon j'avoue je poste pour me changer un peu les idées car la jolie boîte à épaulettes de ce post n'est plus... elle existe à présent en version 1000 morceux, déchiquetée en très petits bouts quand j'étais partie faire les courses.
Qui veut adopter un chien destructeur???
***
For the little girl of one of my friends... a simple blouse with a few pleats here and there and three buttons at the front.
I have to say I am only posting today to think about something else because the lovely box shown on this post is no more... well it is now available in a thousand pieces version, destroyed into tiny bits while I was gone grocery shopping.
Who feels like adopting a crazy dog???
11 février 2012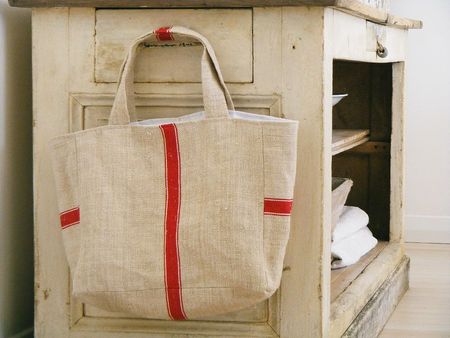 Je l'avais commencé il y a un moment celui là et puis aujourd'hui peut être que la combinaison du soleil, du temps disponible et du calme m'a inspiré l'envie du travail fini!
Taillé dans un vieux rouleau de chanvre, ses lignes rouge vif me donnent déjà envie de l'emmener au marché et de le remplir de fruits et légumes... ou bien d'y rouler ma serviette de plage!
***
I had started making this tote a long time ago and maybe today the sun, the time available and the quietness inspired me to finish this project!
Made from an antique roll of hemp, its bright red stripes already make me want to take it to the market and fill it with fruits and vegetables... or to carry my towel to the beach!
21 janvier 2012
Les vacances filent devant nous, les beaux jours s'enchaînent et ma tête est toujours ailleurs!
Un peu de temps aujourd'hui pour coudre des petits nuages... à parsemer dans la maison, à vaporiser de belles senteurs et à partager par ici! J'espère que les vacances ont été bonnes pour vous!
***
Holidays are flying by, beautiful days pass by and my head is always away!
A little bit of time today though to sew some little clouds... to be left around the house, to be sprayed with lovely scents and to be shared on these pages! I hope you all had great holidays!
19 octobre 2011
Mes projets couture et jolies chines récentes apportent à l'intérieur quelques touches de couleurs et ça me plaît!
Entre les bleus et les verts aqua on passe par les tons d'Automne d'un tissu gauffré, pour mieux mettre en valeur les déclinaisons de blancs d'ordinaire si neutres de cette maison.
***
My sewing projects and recent vintage finds bring a dash of colour inside and I love it!
Blues, aqua greens and the automnal shades of an antique fabric bring out the best of all the usually so neutral whites of this house.
Pssttt... Je ne sais pas comment c'est en France mais ici les décorations de Noël sont déjà en magasin depuis deux semaines... alors je me suis dit que finalement coudre quelques agendas pour 2012 n'était pas si en avance que ça!
Agendas à retrouver ici.
***
Pssttt... I don't know what it is like in the rest of the world but here in NZ Christmas decorations have been out in shops for 2 weeks already... si I figured that it was maybe not that early to be making a few 2012 diaries !
Diaries to be found here.
13 octobre 2011
Beaucoup de joie et de fierté accompagnent le lien ci-dessous...
***
A lot of joy and pride come with this link...
J'ai aussi répondu à une petite interview sur leur blog, c'est en anglais mais ça fait un bon entraînement non? ;-) ICI
***
I also answered a few of their questions on their blog HERE
09 octobre 2011
J'essaye toujours de donner à chaque coussin sortant de l'atelier un petit signe singulier... ici des initiales toutes simples, là une couture à la main, ou là encore une reprise bien solide. Ma manière de rendre uniques même les commandes les plus larges!
Heureuse je suis... j'ai reçu ma première commande d'une boutique pour mes Sweet Little Days. Adresse communiquée très bientôt...
***
I try to always give singularity to each cushion getting out of the workshop... you will see little initials, hand stitched seams, or tough hand stitched patches. My way of giving uniqueness even to the larger orders!
I am so so so happy... as my Sweet Little Days have received their first order from a shope. Adress to be given very soon...
04 octobre 2011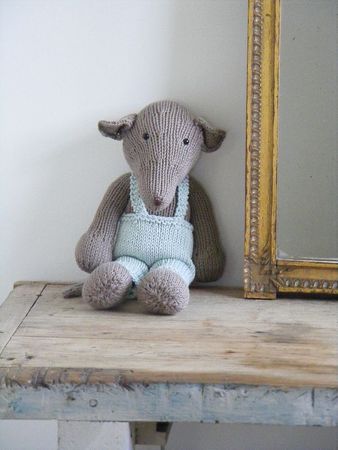 J'ai autour de moi plein de nouvelles mamans avec des bébés tous neufs! Une excuse de plus pour les gâter... Alors pour un petit garçon nous avons Victor le bébé chien tricoté en mélange Bambou Coton.
***
I have a lot of new mummies around me with tiny little ones arriving in this world! I didn't need any more of an excuse to treat them... For one little boy I knitted Victor the greyhound pup with a bamboo Cotton yarn.
Il est tout doux et porte les bretelles à merveille! Le patron est de Debi Birkin
C'est en anglais mais vraiment très bien expliqué.
***
He is really soft and scores some really cool suspenders! The pattern is by Debi Birkin
and is extremely clear and well put together.
Pour le petit bonhomme, un gilet dans le même colori que le petit chien... Patron des Tricots Intemporels pour Bébés.
***
For the little man, I knitted a cardigan using the same yarn as the greyhound pup one... Pattern is from French book Tricots Intemporels pour Bébés.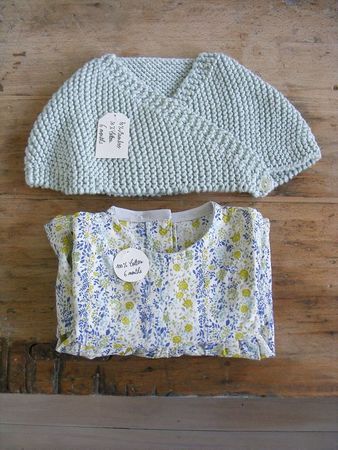 Pour une petite à présent, un cache coeur en bambou coton de nouveau, et une robe en coton.
Patrons Tricots Intemporels pour Bébés
et Intemporels pour Bébés, modèle de brassière un peu modifié pour créer une petite robe.
***
For a little girl, a cardigan with the same Bamboo and Cotton yarn, and a cotton dress.
French patterns from Tricots Intemporels pour Bébés
and Intemporels pour Bébés.
29 septembre 2011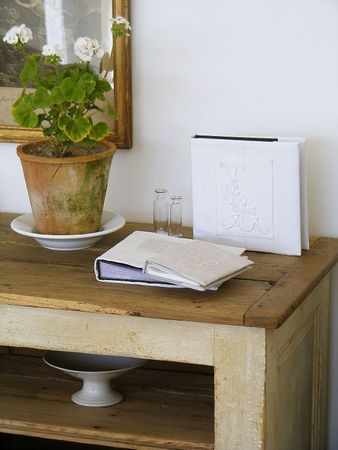 Ma nouvelle envie du moment ce sont les albums photos... J'en avais déjà un peu parlé ici, je trouve que faire imprimer ses photos et les trier dans un album c'est un moment agréable et très spécial au coeur des souvenirs. Quand il est choisi avec goût, l'album photo fait aussi un très beau cadeau.
***
My new big thing at the moment is photo albums... I talked about it a little bit here, I think that printing your pictures and organizing them in an album is a rather nice and special moment with memories. When picked with taste, photo albums also make beautiful presents.
Je m'y suis donc mise, j'en a fait de toutes les tailles et pour toutes les bourses (dont des tous petits réalisés à l'aide d'une plastifieuse et prêts à être glissés dans un sac à main), tous ont cependant pour point commun de pouvoir être laissés sur la table basse avec fierté!
***
So I got on with it! I made them in all sorts of sizes and for all budgets (some are all little and made using a laminator and only await to be carried around in a handbag), all of them though have one common point : they can all be proudly left on the coffe table!
J'ai mis la plupart de ceux que vous voyez en ligne ICI.
***
Most of the albums shown can be purchased HERE.
27 juin 2011
Une idée toute simple pour un plaid express.
Un sac à grain coupé dans la longueur au milieu du dos pour obtenir un grand bout de chanvre plat et ainsi conserver les petits points à la main des coutures lattérales. On pose sa pièce de tissu à plat endroit contre endroit avec, ici, un piqué de coton ancien taillé aux même dimensions que le sac.
On coud à 1.5cm du bord en laissant une ouverture de 20cm sur un coté. On retourne l'ouvrage et on ferme l'ouverture à points glissés. Pour une meilleure tenue on repique une couture tout autour du plaid à 1cm du bord.
A very simple idea for an "express" blanket.
Cut a grainsack in its lenght in the middle of its back to end up with a big flat piece of hemp and to keep the original handstitches that were holding the sack on the sides. Put the piece down flat face up and place a piece of fabric (here it is an old cotton piqué) on top face down. Stitch all the way around, 1.5cm from the edge and leave a 20cm opening. Turn your work inside out and handstitch the opening to close it. Stitch a last seam 1cm from the edge all around the blanket.
Hyper simple mais j'avais dit "express"!
J'en profite aussi pour vous montrer un bout du lit que je suis en train de retaper. J'ai décapé la première couche de peinture beige affreuse et dessous il y avait un beau gris vert, et même un peu de bleu turquoise très joli. J'ai fait une mise en blanc rapide et le tout sera recouvert d'un lin enduit blanc.
Je vous montre ça quand c'est finit!
VERY simple but I did say "express"!
Good opportunity for me to show you a little bit of the bed I have been working on recently. I decaped the first layer of ugly beige paint and under it was a beautiful greenish grey, and there is even a bit of azur. I started the upholstery with a quick "mise en blanc" that will then be covered with a white linen oilcloth.
I'll show you when it's done!
*** EDIT ***
Pour des explications plus claires, voici deux images vous montrant le sac de face avant d'être coupé, puis le sac de dos avec la coupure à tailler, il faut en fait couper un T à l'envers.
To give you clearer explanations, here are 2 pics showing the front of the sack before it has been cut, and the back of the sack once cut, you basically need to cut a big T upside down.